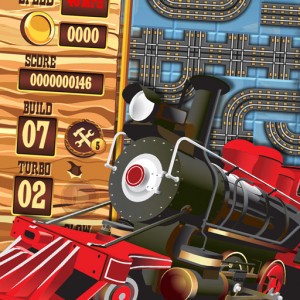 Your job is to compose the railway track from parts to let the train move ahead.
The train is a bit heavy, why parts are lost behind it.
So, you have to keep eyes open to keep your train on the way without crash. Feel free to make a mistake, try to improve your reaction skills.
Press the tile to rotate it clockwise.
Passing the cross, you get a bonus on the way. Collect it to be awarded with gold, but keep in mind, that rotation kills it.
Note that the train is so crazy, that it appears from the left just after running away to the right. And the same for the top and bottom sides.
Some hidden staff build tiles for you from time to time.
But when they are tired a bit, you can get a stub on the way.
By the way, don't touch the train Turbo Switch, unless you are cool'n'crazy enough. 😉
You will love this game if you would like to test the speed of your reaction. Get an adrenaline rush in this amazing and challenging game! Avoid a wreck of rushing train in this crazy racing puzzle. Track scores of your friends and challenge them. Have fun gaming!
Features:
– online challenge Leagues scoreboards with ranking and rewards for novices and masters
– cooperative help with Facebook friends
– upgradable power ups and awards
– speed control with boost mode
– full junction control : just build up your own way
– auto and on-demand way repair options
– cloud saving: share your progress across multiple devices and restore it upon reinstallation
– bragging option available
– soul-catching music and bracing sound effects
– real emotions attached
– environment-friendly : no real smoke produced
– safe for children of any age