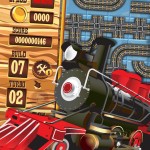 Your job is to compose the railway track from parts to let the train move ahead.
The train is a bit heavy, why parts are lost behind it.
So, you have to keep eyes open to keep your train on the way without crash. Feel free to make a mistake, try to improve your reaction skills.
Press the tile to rotate it clockwise.
More about : Crazy Train: Puzzle League